Rebecca has been recovering from an autoimmune condition that made her especially sensitive to mold. The family had to move from their last residence as the house was filled with mold. The Vogt's have been in France serving and recuperating after their service in the mission field of Chad. We need to support them financially and in prayer. It's not easy to be on the mission field with a family of six wonderful children. In all things we are seeking to walk in wisdom and waiting on the Lord for each new step.

Currently, the Vogt's are in the USA at a church in Mississippi, preparing to return to full time missions service. Recently, Chris shared this immediate concern pertaining to France:

"I've mentioned this prayer request for France a few times this year. It concerns a bill that will most likely be passed by l'assembles Nationale in Paris by the end of this week. In essence, it will give massive control to the state over religious institutions unto greater taxation, limits, oversight and penalties issued for not towing the line. It will also ban homeschooling in France.

Please pray for the many Christians and Muslims affected by these new laws. Of course, no law nor power can bridle God's church or the Gospel from going forth, but it will lead to greater obstacles. Here is a short video explaining the situation from Impact France, a ministry committed to mobilizing prayer for France. And if you are interested, a video from a muslim perspective you can view from Al-Jazeera here.

How would this impact our family personally? Who knows really, but the inability to homeschool our children in France is one ramification that would limit us in some ways. Not insurmountable, but a definite factor."


You can help supply their needs by giving here
We have seen his goodness. Believe me when I tell you this, one year ago we felt so low, discouraged and drained from all our travels, stresses and health issues that it was hard to imagine what it would look like to come to a place of feeling recovered, BUT the Lord has done it. Truly, all praise to God who does give strength to the weak and weary. He has used our church here in Mississippi to nourish us through the preaching of the Word to amaze us again by the Gospel, the prayers of God's people to embolden us and the sweetness of gathered worship among believers to encourage us. It seems so simple, right? God fed us through ordinary means: himself via his Word and his people. Thank you Lord. Thank you to our church here, Colonial Heights, for your commitment to the Gospel.

Sing to the LORD a new song,
his praise from the end of the earth,
you who go down to the sea, and that fills it,
the coastlands and their inhabitants.
Let the desert and its cities lift up their voice....
let them shout from the top of the mountains.

Is 42:10-11

So, What's Next?

We know some of you have been wondering this: "What is next for the Vogt's? Are they staying in the US? When will they leave for the field again?" You have no idea how many times we have asked ourselves the same questions. They are good questions and honestly, questions we haven't had clear answers on, mainly because all we knew was that we were supposed to wait, pray and recover from the drain of the three years previous.

During this whole year we have unceasingly continued to pray for Chad while setting a trajectory for France. As you know, France had been closed to Americans up until a few weeks ago. During this time we had been looking into the various options for ministry in France, but since all was closed off it didn't make sense to move forward on anything. Plus, we just hadn't been ready.

Since our return to the US we have consistently done everything we could to make ourselves ready for returning again overseas, but we were often hindered in reaching that goal initially through health issues, moldy houses, closed countries due to COVID and our own fatigue. The last 6 months have been completely different. In particular, this last month both Rebecca and I have felt a freedom and greater inclination to begin moving forward more precisely towards being sent out again. This doesn't mean we are ready to jump on a plane tomorrow, but it means that we feel strength and resolve to get there.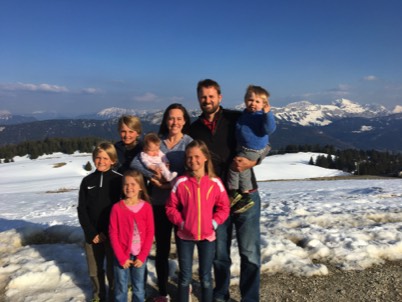 During this whole year we have been meeting monthly with mentors of ours who have served on the field for 30 plus years. They have helped guide us, listen to us and help us set a course for navigating this strange season. The member care team from Pioneers has also been extremely helpful in listening and encouraging us throughout the year. There are many others that Rebecca and I often seek out counsel from, prayer from and encouragement. The Lord has for many years surrounded us by an abundance of people and this year in particular he has also connected us with a whole new group of faithful Christ followers through our church here in Mississippi. We cannot say enough good things about our church here. Not in a million years did we ever entertain the idea of moving here, but the Lord continually surprises us with good gifts.

As we seek to reach the unreached and look to see churches planted where there were none before, we want this to be intimately connected to the local church. Churches plant churches through the sending of their own to do so. Thus, for the mutual encouragement and benefit of the body, the needed support of our tribe, and the hoped for encouragement to future believers in Christ, we desire the vision to reach a particular city or context be birthed by God, through the church, unto the sending of missionaries. The Great Commission was not given to our tribe to accomplish (thank the Lord for that), but it was given to the church unto the sending of its own.

While we take these necessary steps forward here is a more succinct look at what we are working on in coming months:

Collaborating with leadership at Colonial Heights - Intentional time spent with elders unto discerning and praying for the Lord's direction

Connection with supporting churches and partners - This next season we will be spending more intentional time connecting with many of you personally. We so value your partnership and we are humbled by your labor alongside us.

Writing - Rebecca has been taking time the last two months to write down our story as a way to remind us of God's faithfulness over the years. We see this as a big priority and something healthy for Rebecca (and I) to make time for..

Prayer - We want to continue to pray for the nations both via Zoom (as we have been doing), as a family, and also with other believers/potential missionaries here in MS. Please pray we can be faithful in this area.

Exercise and maintaining good health - This might seem like something small, but was truly a weak area for us on the field last time. In all of the transition we did not properly prioritize the maintenance of our bodies :)

Seminary - Chris will continues completing pieces of his degree

Language study - Continued language study is also a goal of ours. We are trying to keep French from receding too deep and we also know that learning some Arabic will be necessary for our engagement with Muslims in future years.